People behind 'Himalayan Gipsy Adventure' have been into hospitality industry since seven years and these Jungle Camps are the latest addition to their group. With the River Ganga flowing beside the camp site, the location seems an absolute advantage.
The moment you get off your vehicle and give a look at the surroundings, the tone of your 'Jungle Stay' is set. One reaches the camp site by treading slowly and carefully on the slope sprinkled with little pebbles that might prick you at times, in case your attention wanders. After you descend the slanting road, two natural pools made by water from the Ganges wait to give you a soothing 'airy' pat on your back that feels like a reward after the long journey. However, in case you wish to have a completely natural experience with the mighty river, you may take a small walk on the stony and slightly slippery path to sit on any of the large stones and dip your legs in the cool and running waters of Ganges for hours.
Further, 50 tents have a magnificent view of the river and the remaining 4, however, are in a different lane. Tents are fully equipped to comfortably accommodate two and at times, three persons. The attached bathrooms make the stay quite comfortable, except instead of a door, there's a 'zipped partition'. One can also be provided with a bonfire arrangement, on demand. Singing and dancing around the flames with your loved ones make the moments special, for sure. Post dinner, you may head for your tents to wake up in the morning with chirping of birds.
An excellent getaway from city stress the tented jungle camp offers complete outdoor experience with white water rafting at its very best, camp games, solitude, campfire tales, trekking, bird watching etc. with an add on lip smacking food.
Accessability :

By Road:
The distance from Delhi is of 222Kms/138Miles and takes nearly 5 hrs. The route is Meerut, Muzzafarnagar, Roorkee, Haridwar and Rishikesh.


By Air:
The faster and most convenient way of getting here, especially for guests who are not from Delhi and wish to get to himalyan gipsy adventure with little fuss.with 3 airlines flying to Dehradun reaching us has never been easier. We are 1.5hrs from the airport.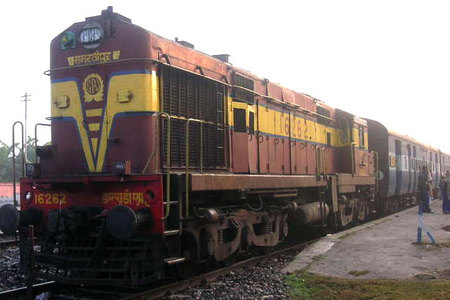 By Train:
Himalayan Gipsy Adventure is 2 hours from the closest trainhead at Haridwar. The morning Dehradun Shatabdi Delhi or the overnight Mussoorie Express are both convenient ways of getting here. The Mussoorie Express get's you here on time to enjoy a full day after a good night's sleep on the train

BY RAIL


TRAIN NO.


TRAIN NAME


DEP


ARR


COACH


DAYS


Delhi - Haridwar Day Trains :

NDLS-HW

2017

Dehradun-Shatabdi

06:50

11:25

Chair Car

S M T W T F S

NDLS-HW

2055

Dehradun-Shatabdi

06:50

11:25

Chair Car

S M T W T F


Delhi – Haridwar Overnight Trains :

DLI-HW

4041

Mussoorie Exp

22:1

05:52

Sleeper

S M T W T F S

NDLS-HW

4310

D. dun AC Exp

23:55

0355

Sleeper

S M T W T S


Return Travel Haridwar –Delhi Trains :

HW- DLI

4042

Mussoorie Exp

23:20

07:45

Sleeper

S M T W T F S

HW- NDLS

2206

D. dun AC Exp

00:40

05:05

Sleeper

S M T W T F S
Note- Pick- and- drop facility is always possible with reasonable charges.